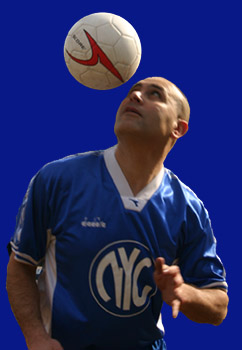 | | |
| --- | --- |
| Nationality | United States |
| Current Team | ZIZO SOCCER |
| Past Teams | ZIZO SOCCER |
Zizo, a native of Egypt, has over 20 years of professional experience. He began playing for the Junior Team of the Tanta Club, Cairo (One of the largest agricultural/Industrial cities in the Nile Delta of Egypt). He led the junior league with the highest number of goals during the years 1985 – 1993.
International Experience:
In 1986, at the age of 16, He played Egyptian Junior Team at the World Championship in Australia.
At the age of 19, he advanced to the 1st Team in the Premier Division and played center forward at the front offensive line. In 1990, Zizo played on the Egyptian National Team in Italy world Cup.
He was picked up to play for Alahli Club (One of the most famous, popular and strongest 1st Division Teams of Cairo, Egypt).
Professional Career:
He also played with the Trenton Soccer Team 2nd Division, Paris, France.
During his career as center forward, he was recognized and identified as one of the best players in Egypt by the Egyptian football (Soccer) association, the Egyptian Olympic Committee, The Egyptian Federation for Soccer (Province of Gharbia-Tanta City) and by several private and federal athletic organizations.
Zizo and his team of coaches are all licensed in the United States and have extensive soccer experience. Their goal is to provide the inspiration needed by young players to become further soccer stars.